Establishment of 2 new Flagship Centres between OUH and SDU in 2024
Call for expression of interest. Phase 1. Application deadline: March 23, 2023, 12 p.m.
| | | | |
| --- | --- | --- | --- |
|   | Launch of call | Application deadline | Assessment meeting |
| Phase 1 | Mid-November 2022 | March 23 2022 (12 p.m.) | 18 April 2023 (expected) |
| Phase 2 (only by invitation) | Appr. 25 April 2025 (expected) | 4 Sept. 2023 (12 p.m.) (expected) | 12 October 2023 (expected) |
1 Background and objectives
Odense University Hospital (OUH) and the Department of Clinical Research at The University of Southern Denmark (SDU) have during the latest decade strived to take a leading position at several areas within clinical research by stimulating research and increase the quality of research significantly.
An essential instrument to obtain these goals has been the establishment of several Elite Research Centres at OUH, which have asserted themselves at national and international level.
OUH and SDU intend to establish two new joint Elite Research Centres in 2024 to supply ambitious, innovative, interdisciplinary, and potentially ground-breaking research. A new name for the joint Elite Research Centre is Flagship Centre.
Only the best research environments with the most ambitious ideas will be able to be appointed "Flagship Centre".
The ambition is to establish Flagship Centres requiring equal collaboration between researchers affiliated at OUH / The Faculty of Health Sciences and researchers employed at other SDU faculties. The main goal is ensuring better treatment for our patients. However, the interdisciplinary approach leaves room for more holistically oriented research fields in form of both applied research and basic research.
OUH and SDU expect the new Flagship Centres to be established 1th January 2024 for a period of five years with the opportunity for a five-year prolongation.
At the termination of the funding, it is anticipated that each centre has developed into an international leading research environment, and that the cooperation between the involved parties continues.
1.1 Requirements for a Flagship Centre
OUH and SDU expect that a Flagship Centre must:
Perform research (clinical, basic and applied research) at the highest international level; research which leads to a noticeable boost in the research field.
Be an interdisciplinary centre, which involves researchers from clinical and para-clinical disciplines as well as other research fields, e.g. applied research and basic research.
Involve international collaborators and, where relevant, involve municipal and regional collaborators.
Be established within a field where OUH and SDU already have a substantial strength.
Consist of researchers from OUH departments, the Faculty of Health Sciences (SDU) and researchers from additional 1-2 faculties at SDU.
Ensure that interdisciplinary and translational elements play a significant role in the establishment and management of the centre.
Attract excellent international researcher(s).
Have a distinct clinical perspective when it comes to the research emanating from OUH.
Ensure that the main part of the research funded by the grant is carried out equally by OUH and the collaborating department(s) at SDU.
Be a pioneering centre and a role model for other research environments at OUH, SDU and in the Region of Southern Denmark.
1.2 Governance and management structure
The Flagship Centre must bring researchers together in new and interesting collaboration constellations.
It is a prerequisite that the Flagship Centre establishes a governance and management structure that embraces the fact that researchers are from different departments and institutions and that the Flagship Centre supports collaborations and not separate projects. 
A Flagship Centre:
Consists of several research groups. The groups must collaborate on solving a complex research question closely linked to clinical practice with the possibility of involving both applied and basic research.
Can vary in size and organisational form, depending on the subject field and problem area. It is crucial that the researchers share an overall idea or vision and that the centre has a well-defined structure and composition. Hence, the whole must amount to more than the sum of the individual elements would otherwise do, and necessary and complementary skills are expected to be brought into play.
Has a cross-institutional steering-committee.
Has a centre-leader who is an excellent researcher as well as a visionary leader who manages to build the framework for a creative and dynamic research environment.
Has an international advisory board.
Consists of several work packages (WP) and WP leaders. A relatively equal distribution between WP leaders associated with OUH/SDU and WP leaders from other faculties at SDU is expected.
Regarding governance and management:

The establishment of a governance and management structure is a prerequisite for each research centre.
The reference lines must follow the structure / customs in the local environment at OUH and SDU.
A setup for the organisation and collaboration structure between departments / researchers at OUH and SDU must be included in the expression of interest. There might be individual differences in the setup (program management level) which will be respected as far as possible.
Example: Governance and management structure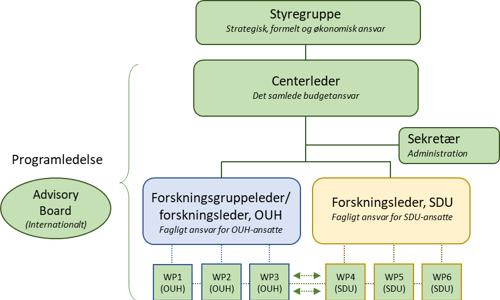 A cross-institutional steering committee consisting of Heads of Departments from involved SDU departments, the Director of Research (OUH), a member from SDU's executive board (a dean), the Head of research and Department management from the department at OUH to which the centre is primarily affiliated. The steering group has the overall formal, strategic and financial responsibility.
Head of centre has the overall responsibility for program management. The head of centre may be a research group leader or a research leader at OUH or SDU. The centre leader may be fully employed (100 pct.) at SDU or be employed in a combined position between OUH and SDU.
The research group leader or research leader (from OUH and SDU respectively) has the professional responsibility and focuses on the coherence between the locally placed WPs. In addition, he/she must ensure that researchers are invited to transversal meetings.
The WP-leaders are responsible for the daily progress of their own WPs.
2 Budget
The funding of the centre is for a five-year period of a total of DKK 14 m with the possibility of funding for another five-year period with an additional DKK 14 m.  
Current funding:
| | | | | | |
| --- | --- | --- | --- | --- | --- |
| Year | 2024 | 2025 | 2026 | 2027 | 2028 |
| Funding DKK m | 1 | 2 | 3 | 4 | 4 |
Funding by a possible prolongation:
| | | | | | |
| --- | --- | --- | --- | --- | --- |
| Year | 2029 | 2030 | 2031 | 2032 | 2033 |
| Funding DKK m | 4 | 4 | 3 | 2 | 1 |
OUH and SDU will each finance 50 pct. It is important to keep the economy between OUH and SDU separate. This implies that the share of funding from OUH will be placed on an OUH research account, while the SDU contribution will be placed on a SDU research account.
Similarly, grants from external funds which concerns OUH-related research must be placed at OUH and SDU-related research grants must be placed at SDU.
Initially, it is possible to apply for funding for five years only. The funded amount is fixed (a total of DKK 14 m) and will be disbursed with a gradually increasing amount. If the centre is granted a prolongation, the funded amount will also be fixed, but with a gradually decreasing amount for a five-year period. 
2.1 Eligible costs
Equipment, apparatus, instruments etc.  
Salary for new appointed researchers ("VIP-løn" in Danish). Buy outs of existing employees follow normal practice for the individual areas/organisations (e.g. state or regional wage agreements).   
Technical/administrative salaries ("TAP-løn in Danish).
PhD stipends (OUH PhD-students only one year)
Running costs, establishment and running costs for bio banks and databases
Travel costs (non-eligible for OUH-employees)
Conferences fee (non-eligible for OUH-employees)
Open Access /other publishing costs (non-eligible for OUH-employees)
2.2 Non-eligible costs
Overhead (since the centre is internally funded).
3 The proposal
The application process consists of two phases:
Phase 1: Expression of interest
Phase 2: Detailed proposal
3.1 Phase 1: Expression of interest
The Flagship Centre must bring researchers together in new and interesting collaborative constellations.  It should be clear from the expression of interest how the centre will strive to achieve a closer interdisciplinary and translational collaboration between OUH and SDU in order to avoid separate entities when the centre is established.
The expression of interest must be drawn up in English and be a maximum of 9 pages excluding appendices and budget. Please use no less than pitch 12.
Please draw up your expression of interest according to the below outline:
a.     Name of the proposed Flagship Centre
b.     Name of hosting departments (OUH/SDU)
c.     Names, academic titles, and e-mail addresses of the main applicants. Specify who is to be Head of Centre.
The main applicant (sender of the expression of interest) will usually be the proposed head of the Centre. The main applicant can either be a professor from OUH or from a Department at SDU. The main OUH applicant will usually be Head of Research. If a professor from a department at OUH wants to be co-applicant/be head of a Flagship centre, it must be in agreement with the head of research of the department and the department management. If so, documentation must be enclosed the application.
d.     Layman abstract (in Danish, approx. ½ page)
e.     Governance and management structure (approx. 1 page)
The expression of interest must include a description of the organization and the collaboration between the departments at OUH and SDU that are part the centre.
f.      Aim and idea of the centre (approx. 1. page).
It must be specified what the proposed centre adds to existing research including a clarification of what will be new and innovative.
            I.         An assessment of the importance of the project, including the relevance to OUH/SDU/Region of Southern Denmark and the importance of the project on an international basis.
          II.         The applicant's knowledge of or contact with researchers working on the same or similar type of project in Denmark or abroad.
         III.          Information about preliminary studies underlying the research plan.
g.     Research plan (approx. 1. page)
Note: A Gantt chart may be added in the appendix
            I.         A number of work-packages (typically 5-8) should shortly be outlined and include data on the responsible researcher, timeline, methods, number of PhD-students, postdocs and anticipated publications
          II.         Description of the clinical perspectives related to the project and how project results can be systematically implemented for the benefit of the patient.
h.     Scientific staff and collaborative partners:
Both existing and proposed staff to be funded by the grant should be described including the proposed recruitment of high-level researchers.
            I.         For each senior member in the centre, academic title and research merits should be stated in relation to the usual customs in the employee's field. Each senior member of centre must be considered excellent in their own field of research corresponding to the given career level (approx. 1. page).  
          II.         Current and proposed collaborative partners within OUH, SDU and researchers from other hospitals and sectors in Denmark and abroad not funded by the current grant should be described (approx. 1. page).
Regarding international collaboration. Please be specific when describing plans regarding international collaboration, including possible affiliation of adjunct professors to the Flagship Centre.  
i.       A statement on whether the project is subject to ethical restraints. If this is the case, the necessary measures, which have been made or will be made, must be justified (e.g., recombinant experiments, animal testing or clinical trials). (Approx. ½ page)
j.         Strategy for or description of how users (e.g. patients and relatives) will be involved in the project, if relevant. Citizen Science can also be included if deemed relevant (approx. ½ page).
Appendices
Signature document signed by (host) head of department from SDU and (host) head of department at OUH
A draft budget proposal including a funding plan for expected external funding. The leverage factor depends on the area the applicants are from but should be ambitious. For the clinical and experimental areas, at least 1:2, meaning that at least 66 pct. of the funding should come from external funds. This budget template must be applied.

Please note that applications with a budget of more than DKK 50,000 must be approved by the OUH Research Support which also offers instructions on how to draw up a budget. Please contact reg.forskerservice@rsyd.dk.

A declaration of collaboration from any scientific or academic participants listed in the application
Relevant CV.
Timeline/Gantt chart – voluntary
Relevant approvals (if any) – e.g. Danish Data Protection Agency, ethics committee etc.
A list of proposed members of an advisory board including at least two European members (not Danish citizens)
Assessment
An initial strategic assessment of the received expressions of interest is being prepared by an assessment group consisting of representatives from SDU's RI Council (Council for research and innovation), the five representatives of the Academic Councils at SDU, the OUH's Research Council and patient and relative representatives. The assessment will ensure an overview of the two institutions' overall strategic directions. It is expected that the assessment will take place on a meeting the 18th April 2023.
Based on a recommendation from the assessment group, the executive boards from SDU and OUH select up to five proposals that will proceed to Phase 2.
In phase two scientific quality, interdisciplinarity, creativity, impact, significance, perspectives and relevance to society are essential criteria in the assessment of the submitted applications.
3.2 Phase 2: Detailed proposal (call to be announced at a later stage)
The applicants who will proceed to Phase 2 will be invited to submit an extended proposal with detailed account for work-packages, international contacts, plan for PhD and postdocs and expected publications. In addition, a detailed budget including expected sources for external funding must be submitted.
The proposal must be a maximum of 21 pages and be drawn up in English (template will follow).
The application deadline for Phase 2 proposals is expected to be 4thSeptember 2023.
Applicants will be given the opportunity to present their proposal to an international assessment panel with expertise in the areas applied for.
Other guests at the assessment meeting will be members of the RI-council, Heads of involved Departments at SDU, members from the OUH Research Council, and members of the executive boards at OUH and SDU respectively.
The two Flagship Centres selected for funding are expected to be announced immediately after the assessment meeting.
4 Evaluation of performance
Each Flagship Centre will be evaluated annually as it is anticipated that there will be set up individual objectives for each centre as regards to quality and quantity in research, education of PhD students, postdocs, external funding, and international collaboration. It is a decisive criterion for success that the centre every year will obtain external funding. Any grants from the Region of Southern Denmark will not be included in this connection as well as grants and stipends from SDU and internal funds at OUH.
The program management should have an external evaluation made by the international advisory board and an internal performance evaluation done by the steering committee. 
After 3-4 years, it will be estimated whether or not the centre is well-functioning according to the criteria for a Flagship Centre. If so, the funding will be prolonged for another 5 years.
5 How to submit an application
Please forward your proposal to ouh.forskning@rsyd.dk entitled "Flagship Centre" in the e-mail heading.
Questions may be directed to: ouh.forskning@rsyd.dk 
Questions regarding the budget may be directed to: reg.forskerservice@rsyd.dk